Eat more plant-based whole foods for long term health gains. These recipes will inspire you.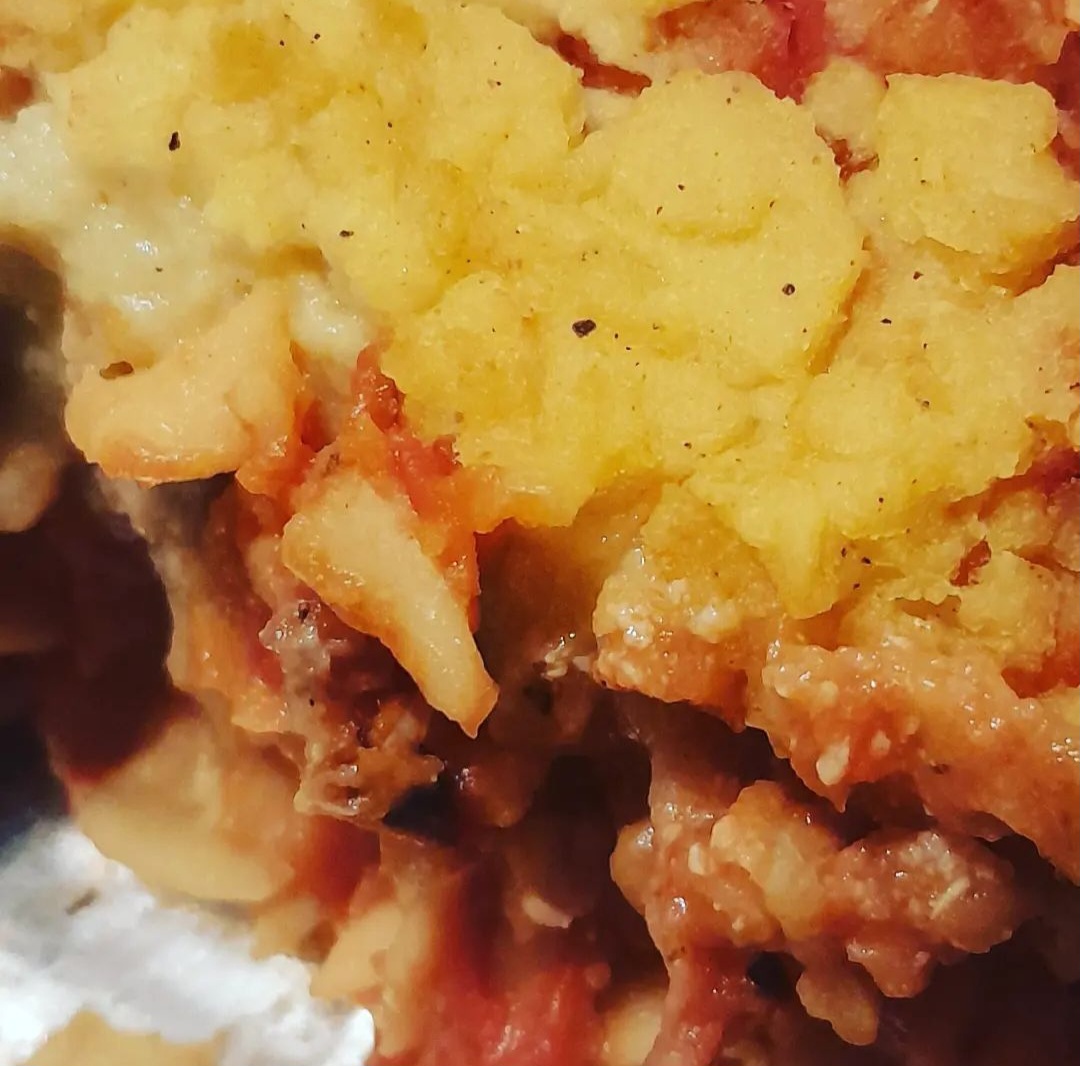 One Pot Lasagna.
A one pot 'lasagna' with healthier ingredient swaps.
Cook 3/4 cup of red lentils in 1 1/2 cups of water and 2 Bay leaves 🍃 for 10 mins. When soft and water absorbed, remove bay leaves and add 1 Tbsp Worchester Sauce,
3 Tbsp tomato paste,
a clove of garlic.
Add 300g wholemeal lasagna or other wholefood pasta,
400g chopped tomatoes 🍅,
1 cup water,
2 tsp each of basil and oregano. Simmer for 15 minutes, stir occasionally and add salt and pepper 🌶 to taste.
Add mixture to oven bake dish.
In a clean pot, mix
4 Tbsp cornmeal,
2 Tbsp nutritional yeast,
1/2 tsp ground nutmeg,
3/4 water or plant based milk.
Season to taste. Heat until thickened and pour over pasta. Heat through before serving.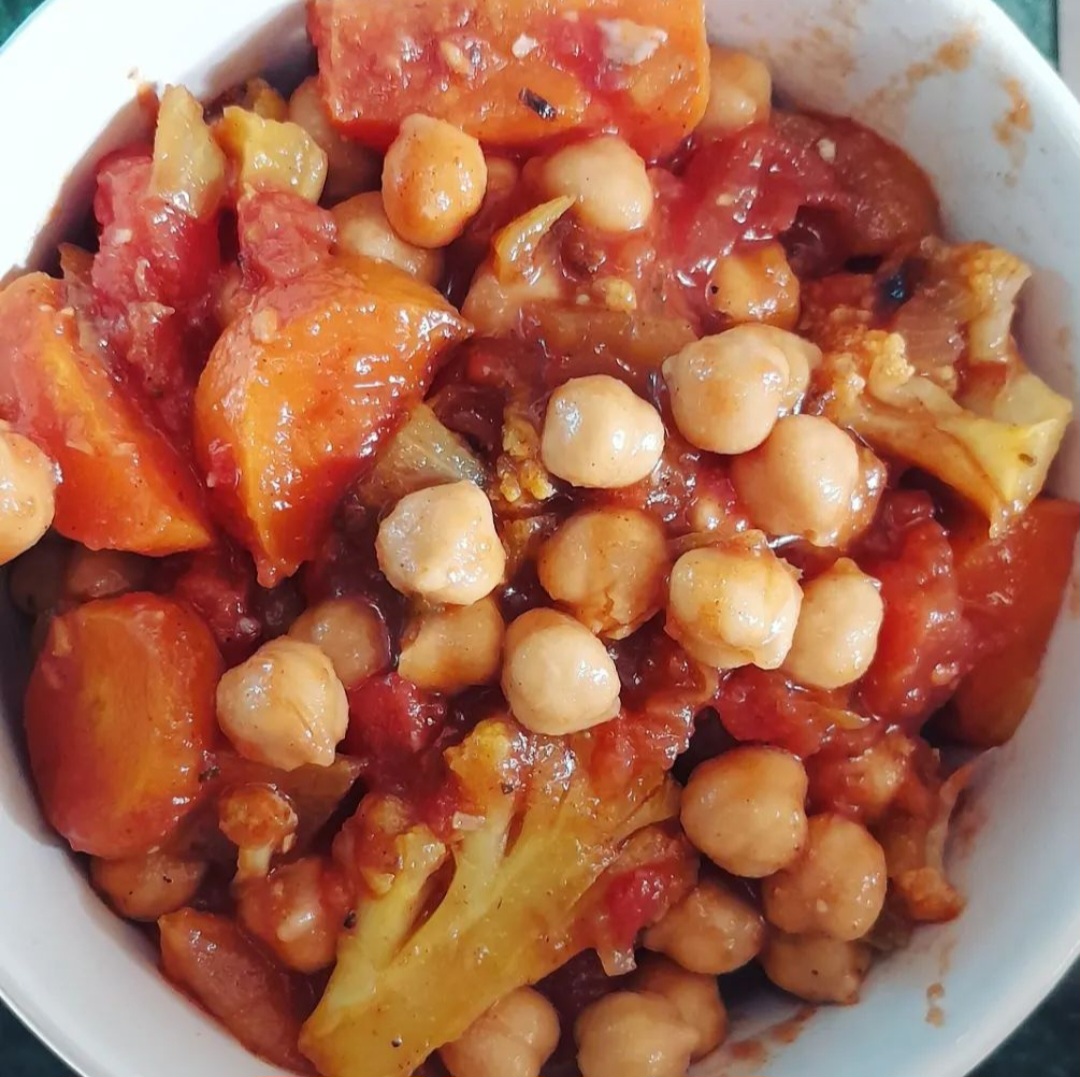 Spicy Chickpea, Carrots and Cauli Main.
Mix together 1 tsp each of
cardamom,
cumin,
turmeric,
cinnamon,
coriander,
paprika,
1/4 tsp cayenne pepper.
Dice 3 carrots,
half a cauliflower head,
1 onion. (Optional).
Sprinkle with half of the spices and spread on an oven tray (with baking paper or a smidgen of olive oil). Bake at 200 degrees for 20 minutes until veggies are soft and crispy edges.
Add to saucepan with
two cans of drained chickpeas,
two cans of chopped tomatoes.
Add the remainder of the spices,
1 to 2 cloves of garlic,
season with salt if desired.
Serve with brown rice and a green salad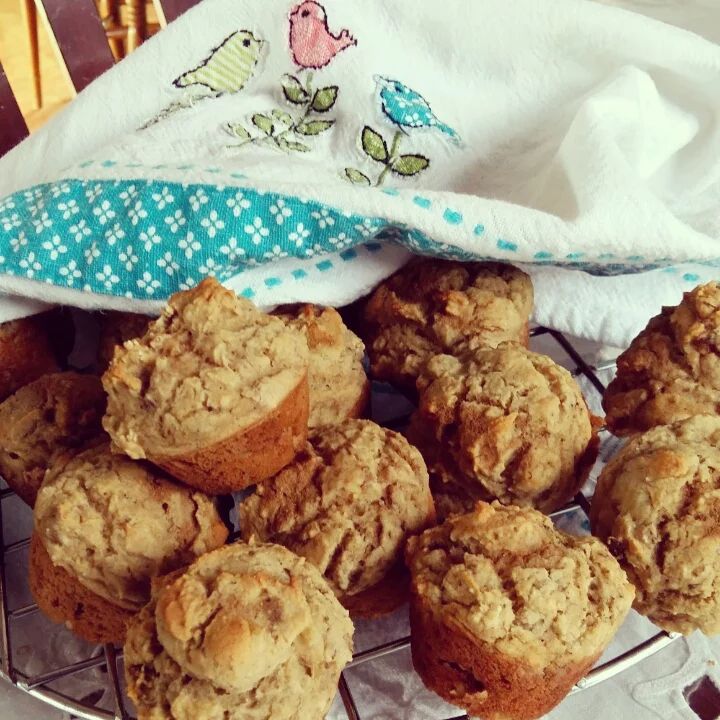 Banana and Date Muffins.
Gluten Free
Makes 24 mini muffins.
1/2 cup chopped dates
1 Tbsp ground linseed.
Mix, just cover with boiling water and sit for 5 mins. Stir to a thick paste. Mash 2 large ripe bananas and add the date paste.
Add 1 1/2 cups brown rice flour,
1 tsp baking powder.
Warm 1/2 cup coconut (or other plant milk) and add 1 tsp baking soda.
Add to mixture then spoon into muffin trays. Sprinkle with cinnamon. Bake at 180°C for 10-15 mins.

Veggie Sausages
Kiddie Friendly
Soak 1 cup raw cashews and 2 Tbsp ground linseed in 1/2 cup hot water for 10 minutes.
Blend cashews with a blender and continue to add and blend:
1 chopped onion,
3 slices wholemeal bread,
1 Tbsp each: sage, thyme, rosemary.
Add 1 tsp salt, black pepper,
1 Tbsp nutritional yeast (optional),
2 Tbsp wholemeal flour.
With wet hands shape into sausages and roll in dry breadcrumbs.
Stand 5 mins then cook in a lightly oiled pain, turning frequently when brown.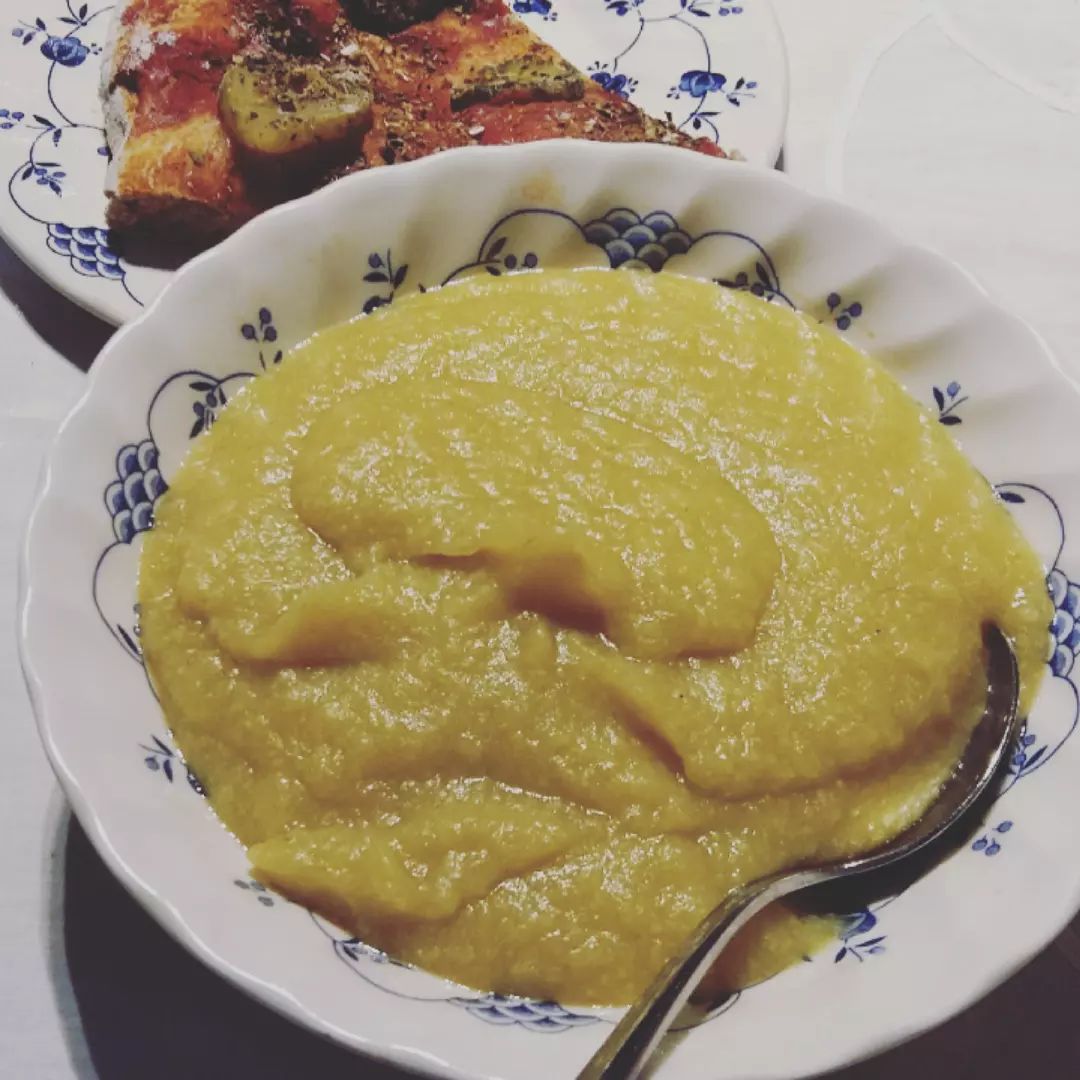 Cauliflower and Potato Soup
Saute 1 chopped onion and 1 chopped leak. (Optional)
Chop 6 medium potatoes and 1/2 head of cauliflower. Add to onion together with
2 cups of water
2 Bay leaves
1 Tbsp soya sauce
1/2 tsp turmeric, nutmeg
Salt and pepper to taste
Cook until veggies are soft. Blend and serve with crusty wholemeal bread.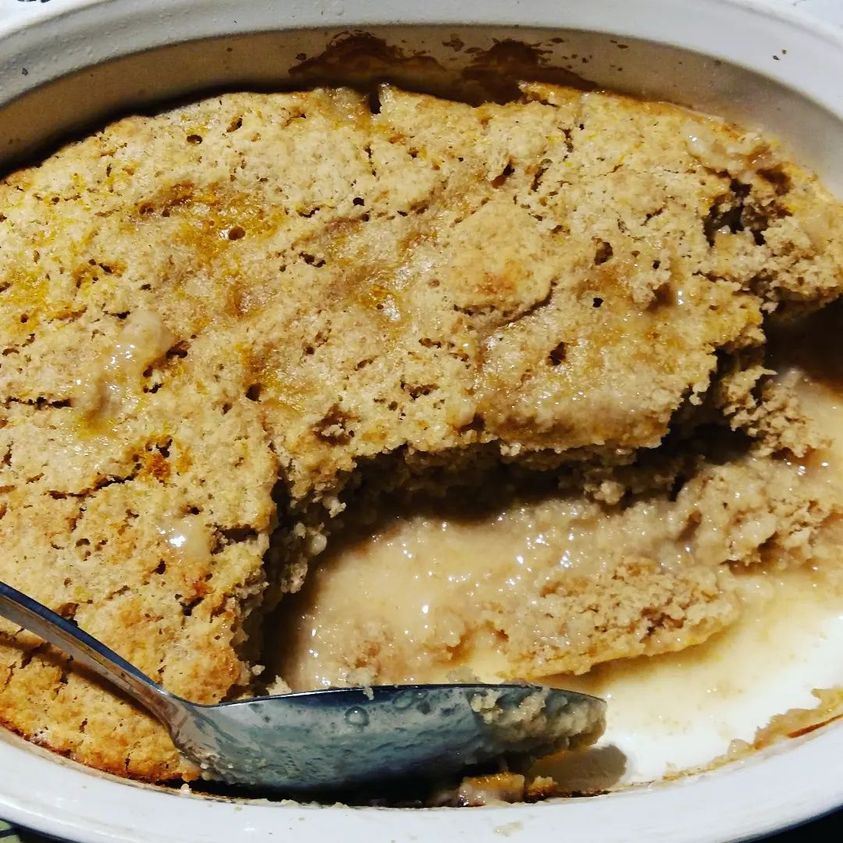 Lemon Self-Saucing Pudding
Mix together:
2 cups wholemeal flour
2 tsp baking powder
1/2 cup sugar
2 tsp grated lemon rind
2 Tbsp oil
1/2 tsp salt
1 tsp vanilla essence
1/2 cup milk of your choice
Juice of 1 lemon.
Mix and add to a greased oven dish.
Sprinkle 1/4 cup sugar and 1 Tbsp lemon zest (rind), on the top. Mix the juice of 1 lemon with 2 cups of boiling water and tip over the top.
Bake at 180°C for 30 to 40mins.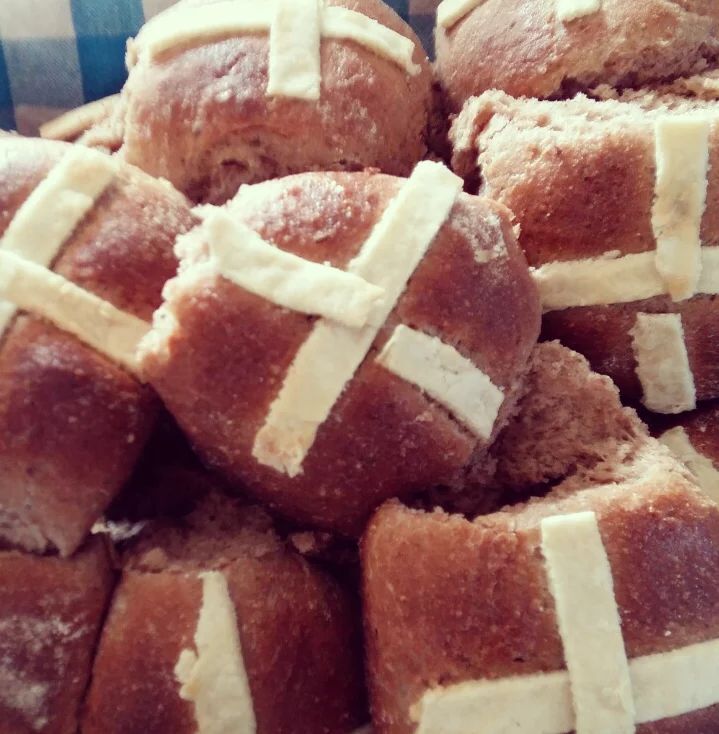 Hot Cross Buns
. Enjoy these spicy plant-based versions for Easter.
In a bread maker add:
6 tsp super bake yeast
4 cups Wholemeal flour
1/4 cup brown sugar
1 tsp salt
1 Tbsp mixed spice and cinnamon
1 tsp ground cloves
1 tsp vanilla
1 Tbsp oil
1 1/2 cups warm water
1 cup currants (optional)
After dough cycle completed form roll shapes and rise in oven for 1 hour. Make pastry crosses with 1/2 cup white flour, 1 tsp oil and 2 Tbsp cold water.
Cook at 220°C for 10 to 15 mins. Glaze with maple syrup when hot.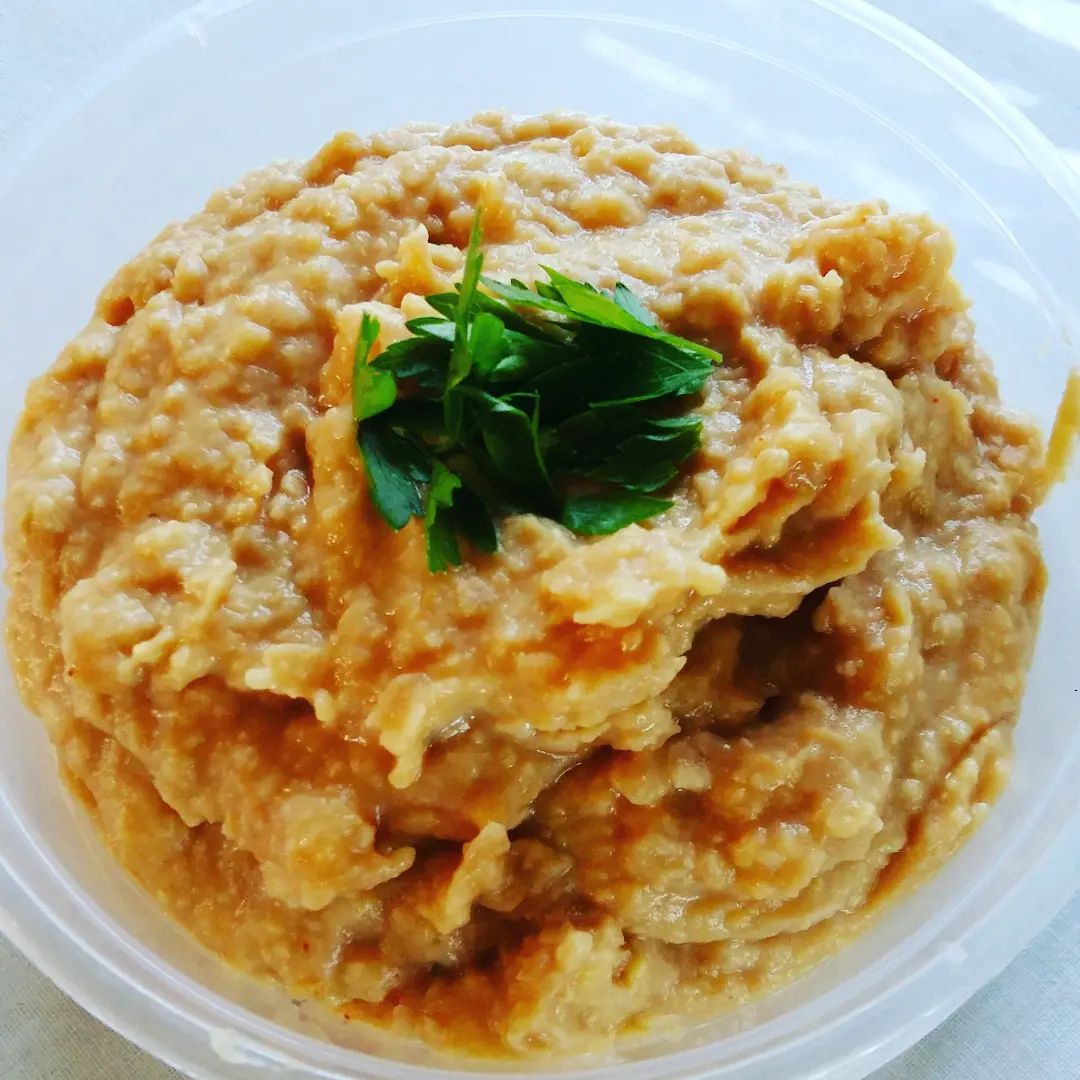 Hummus
Homemade hummus. Easy as opening a can of chickpeas! Add to the drained chickpeas your choice of herbs and spices , garlic , lemon juice and 2 Tbsp of tomato paste for a lovely orange colour. Blend with your stick or bench top blender. Make it low salt and oil free for lowering blood pressure, cholesterol and aid weight loss. Freezes well.

Five ingredient hummus. Use as a spread or dip. Blend in a kitchen whizz or stick blender: 1 tin drained chickpeas, juice of 2 lemons, 1/2 tsp salt, 1/4 cup sesame seeds, 1 clove garlic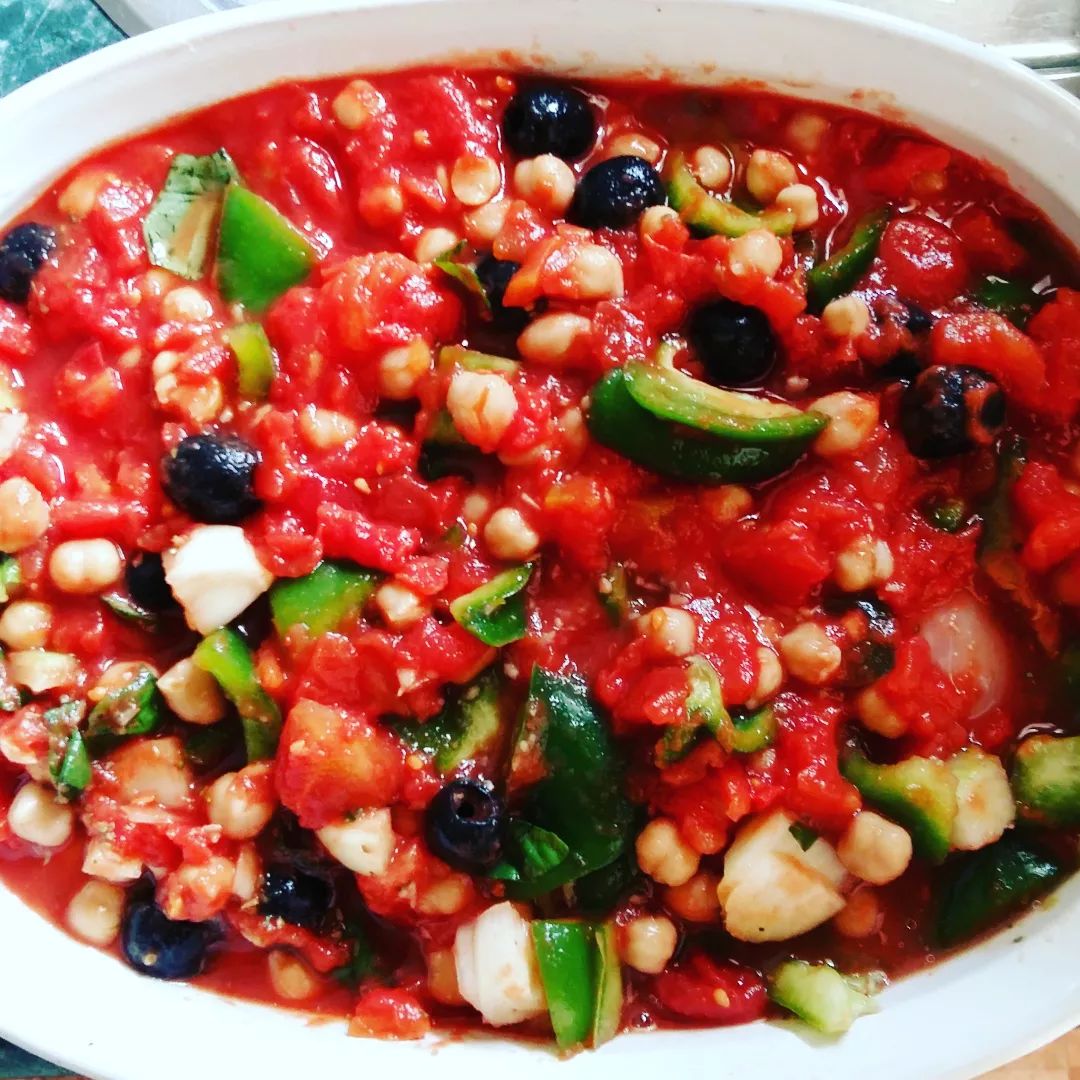 Mediterranean Casserole
Mix 1 can drained chickpeas
2 cans/8 fresh chopped tomatoes
1 onion diced
2 cloves garlic diced
1/4 cup diced fresh Basil/1 tsp dried Basil
1/2 cup black olives,
1 diced green capsicum.
Salt and pepper to taste.
For meat lovers add 1 diced chicken breast.
Bake 1 hour 180°C. Serve with brown rice.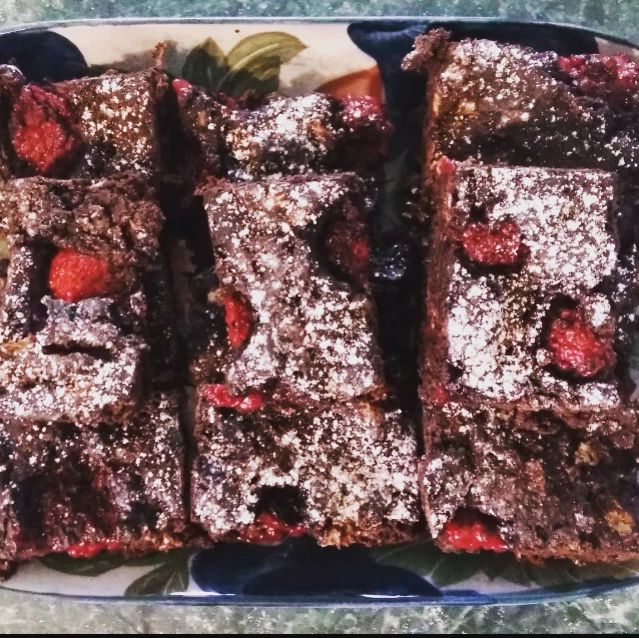 Chocolate Berry Slice
Mash 1 ripe banana
1/2 avocado
Add 2 Tbsp Extra Virgin Olive Oil
1 tsp vanilla essence
1/2 tsp salt
Add 1/4 cup maple syrup
1/2 cup sugar. Mix.
Add 4 crushed Weetbix
1/2 cup flour
1 tsp baking powder
1/2 cup cocoa powder
Mix and add 2 tsp juice or plant-based milk until stiff but moist.
Press into slice tin and add 1/2 cup frozen or fresh berries.
Bake 180°C 20 minutes.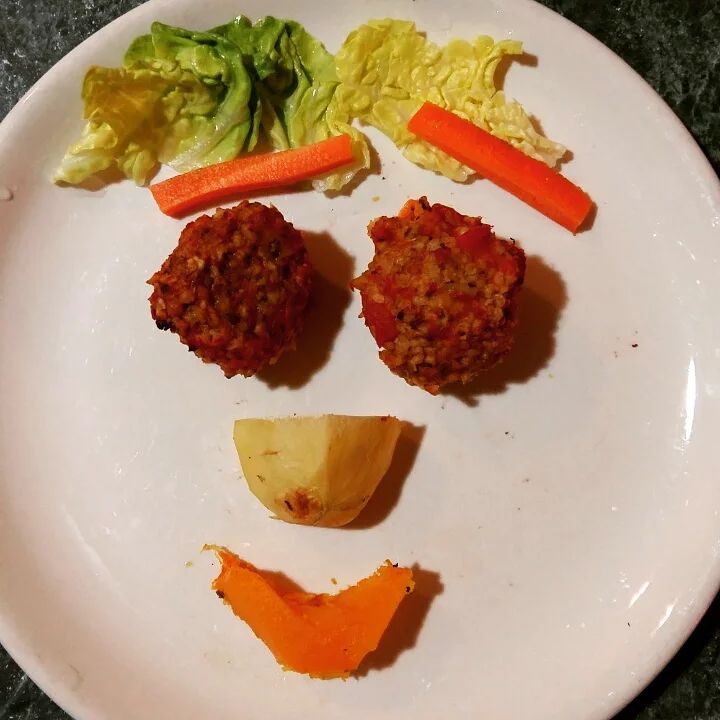 Neat Balls
Kiddie Friendly
Mix together: 1 cup rolled oats.
2 grated carrots or potatoes
1 diced onion. (Optional)
1 chopped clove of garlic
1/4 cup wholemeal flour of your choice
1/4 cup water
1/4 cup tomato sauce
1 Tbsp Worchester sauce
1 tsp each basil, oregano, sage
Roll into balls
Place in a circle in covered microwavable dish. Cook 4 mins on high.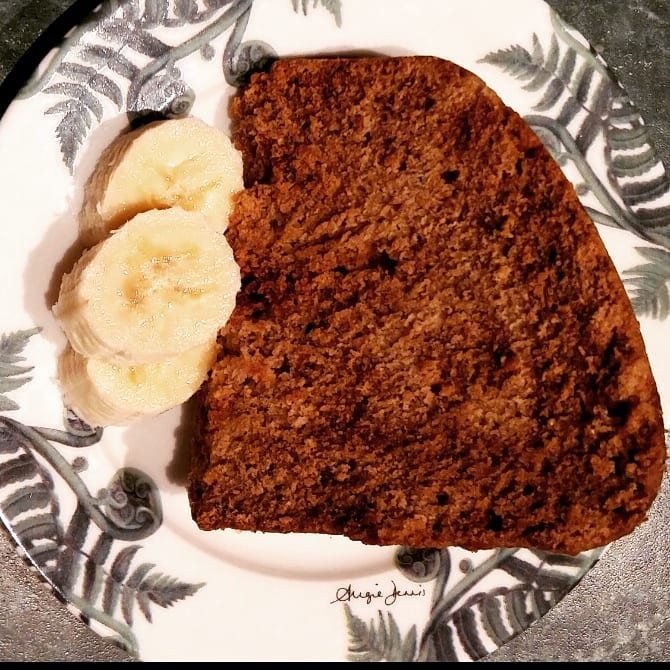 Ginger Steamed Pudding
Blend half cup raw cashews in quarter cup water. When creamy add:
1 tsp vanilla essence and 2 Tbsp maple syrup (or golden syrup).
Mix together dry ingredients:
1 cup wholemeal flour
1 cup white flour
1 tsp baking powder
1 tsp baking soda
2 tsp ground ginger
1 tsp salt.
Mix with creamy mixture and add enough water so pouring consistency.
Pour into greased steaming basin, cover and boil 2 hours.
Alternatively, microwave in ring basin for 8 minutes on high.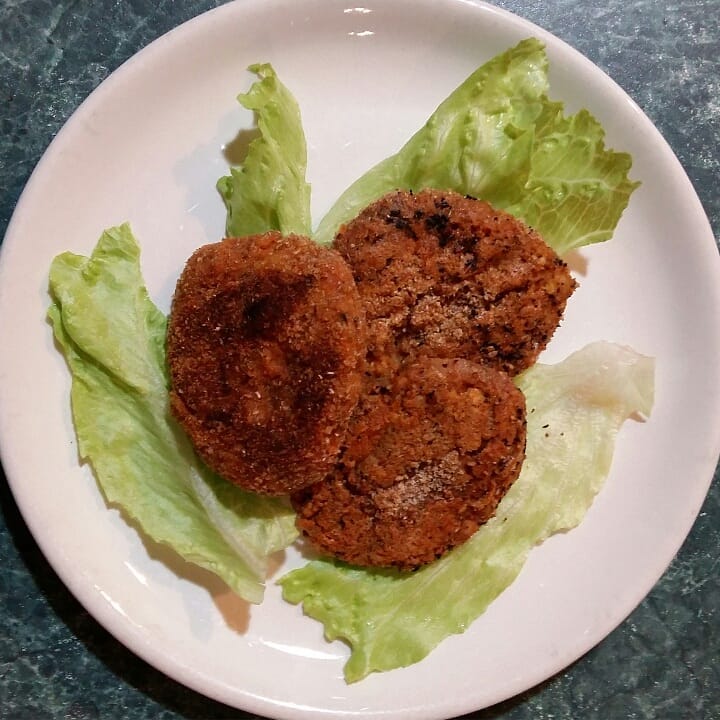 Plant Based Burgers
Boil 3/4 Cup red lentils with 3/4 Cup water for 20 mins.
Add 4 Tbsp flour
1 grated carrot
1/2 Cup rolled oats
2 chopped cloves of garlic
1 tsp marjoram, sage, basil.
Add 2 Tbsp tomato paste, salt and pepper to taste.
Form patties and coat in breadcrumbs. Cook in non-stick fry pan.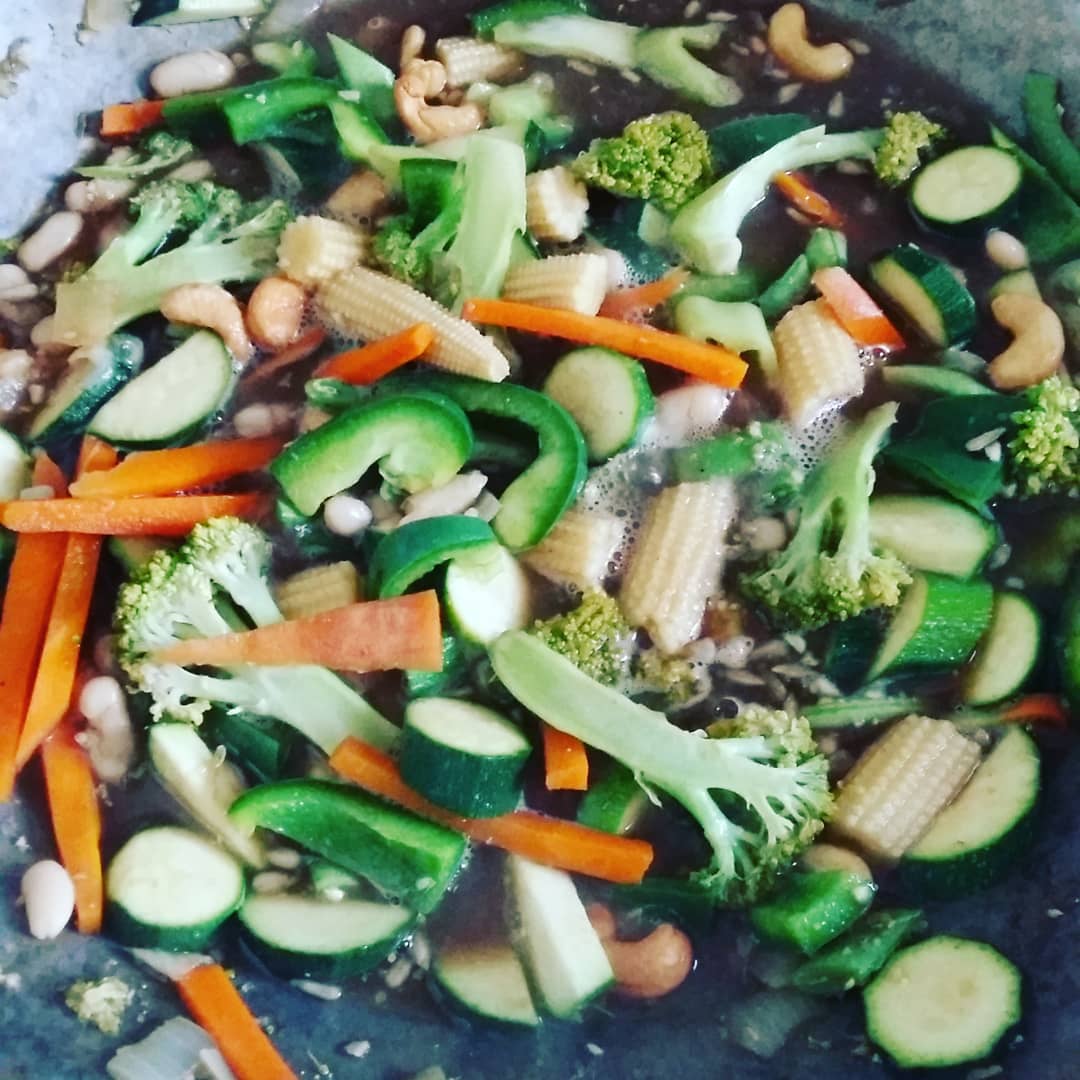 Stir Fry Dinner
An easy way to get your 5+ veggies a day. Add a can of cannellini beans for extra protein. Serve with brown rice or quinoa.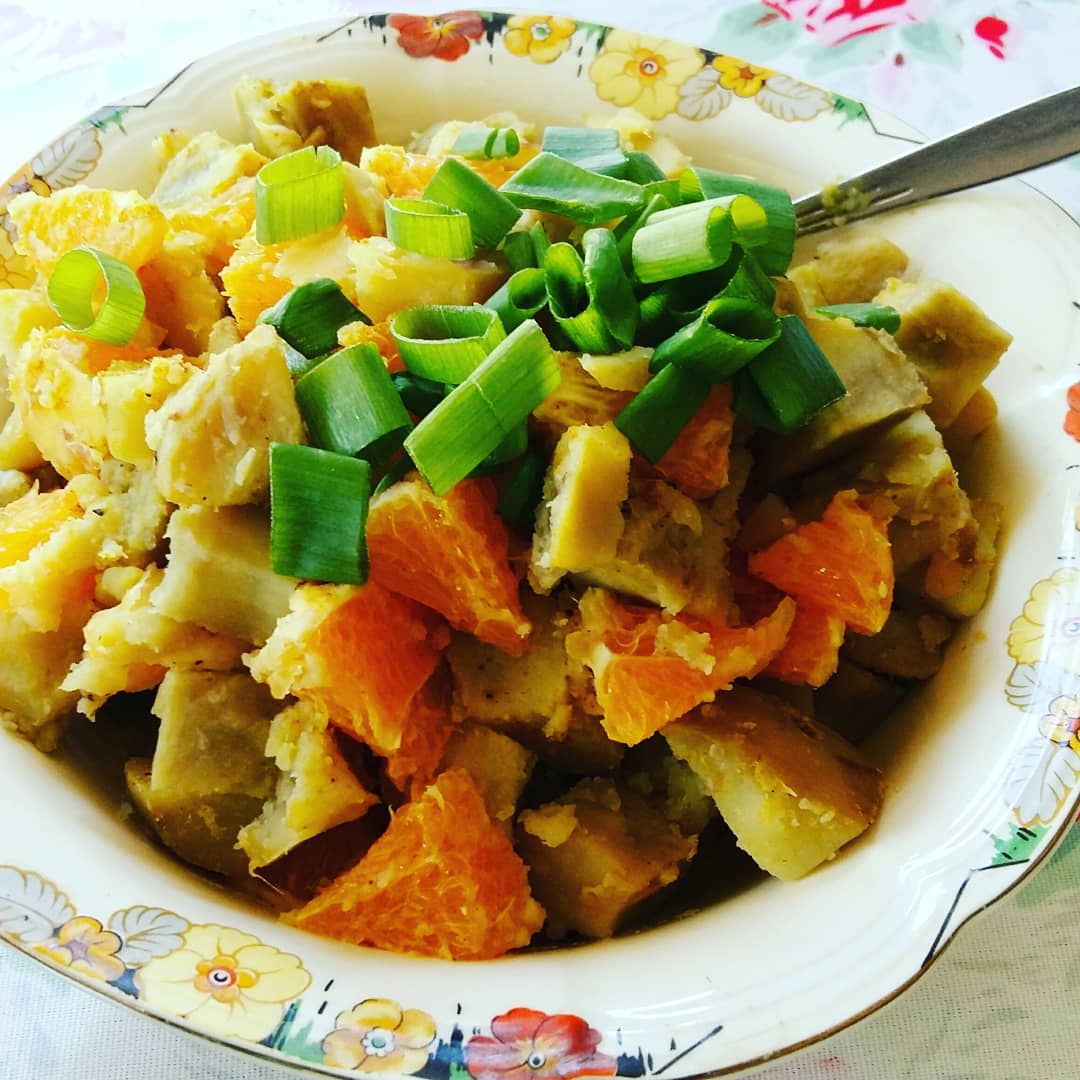 Kumara (Sweet Potato) Orange Salad
Peel, cube two medium kumara and cook in boiling water for 5 minutes until just soft.
Add 1 tsp curry powder and 1/2 tsp salt. Peel and cut in chunks one orange and add.
Garnish with chopped spring onion.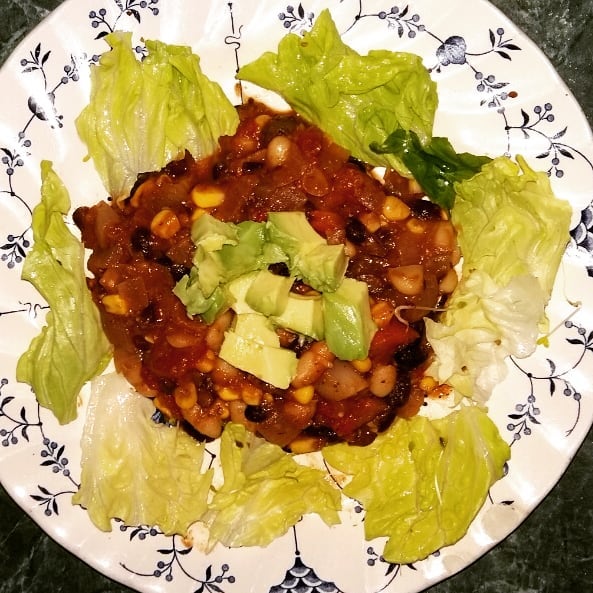 Lettuce Tacos
Sauté one red onion and when cooked add:
1 tsp cumin and paprika
1/4 tsp cayenne and salt.
Then 1 tin drained black beans and cannelloni beans
1/2 cup frozen corn
1/2 tin chopped tomatoes.
Heat and serve with lettuce shells and chopped avocado for a healthy twist.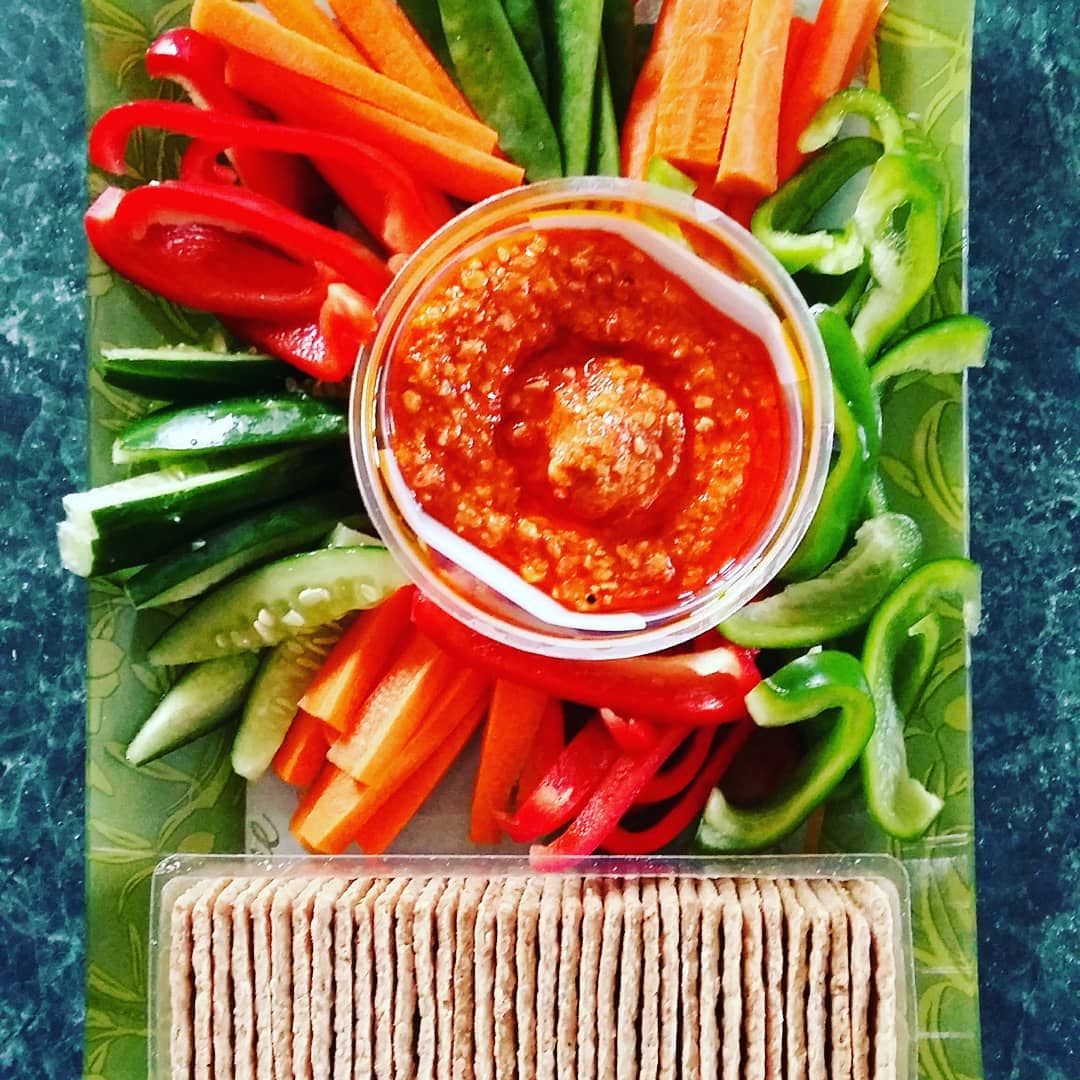 Plant Based Platter
Entertain with a platter of colourful veggies, fruit, wholegrain crackers and hummus.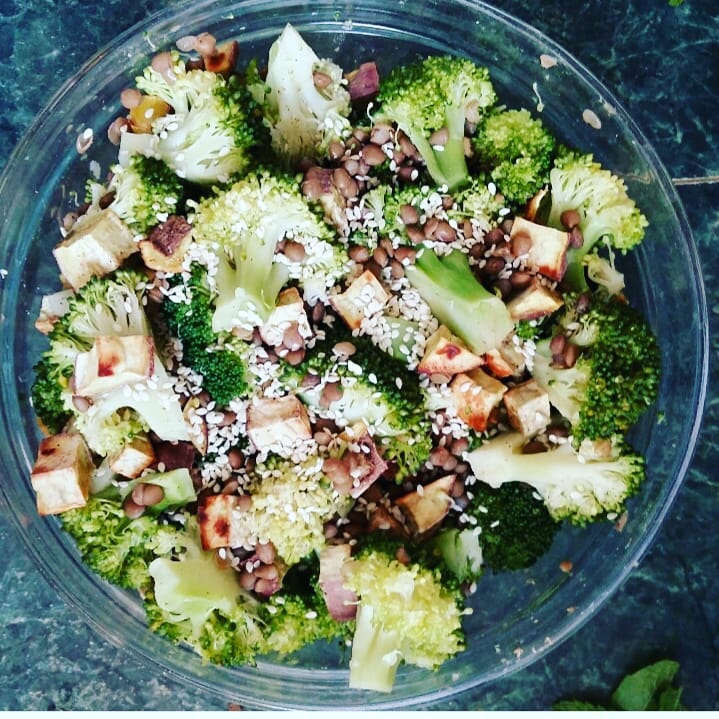 Winter Broccoli Salad
Lightly cooked 1 head broccoli
1 baked kumara (sweet potato) diced
1 tin brown lentils
Season with salt and pepper
Sprinkle with sunflower and sesame seeds.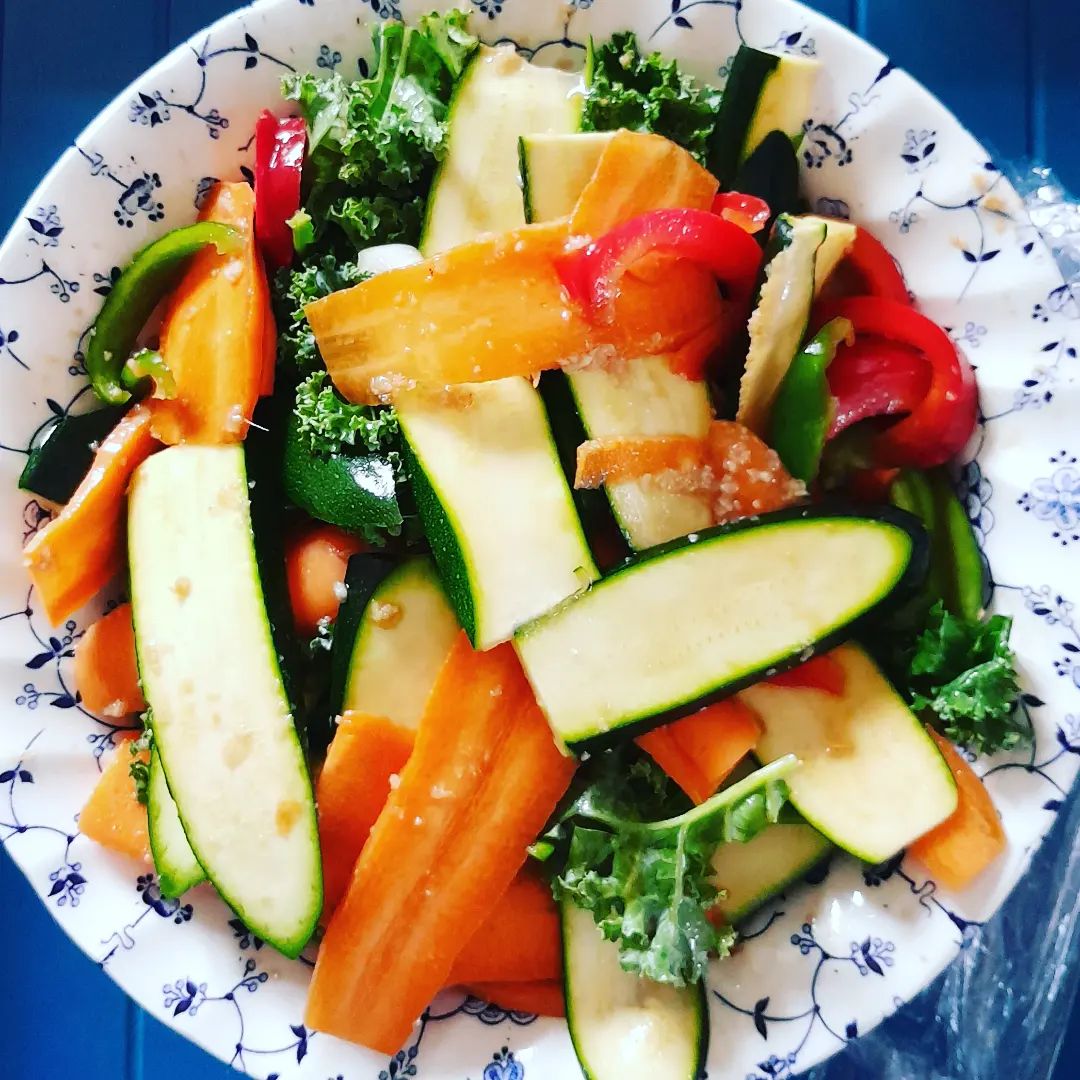 BBQ Stir Fry
Simple, tasty, nutritious barbeque stir fry veggies for an easy BBQ dish. 🥕 🥦🧄🧅🥬 Slice lengthwise whatever summer veggies you have: eg zucchini, carrot, green beans, capsicum, onion, kale. Marinate in lemon juice, a splash of soya sauce with one chopped clove of garlic. Cook on BBQ hot plate after other foods utilizing BBQ juices remaining for extra flavour.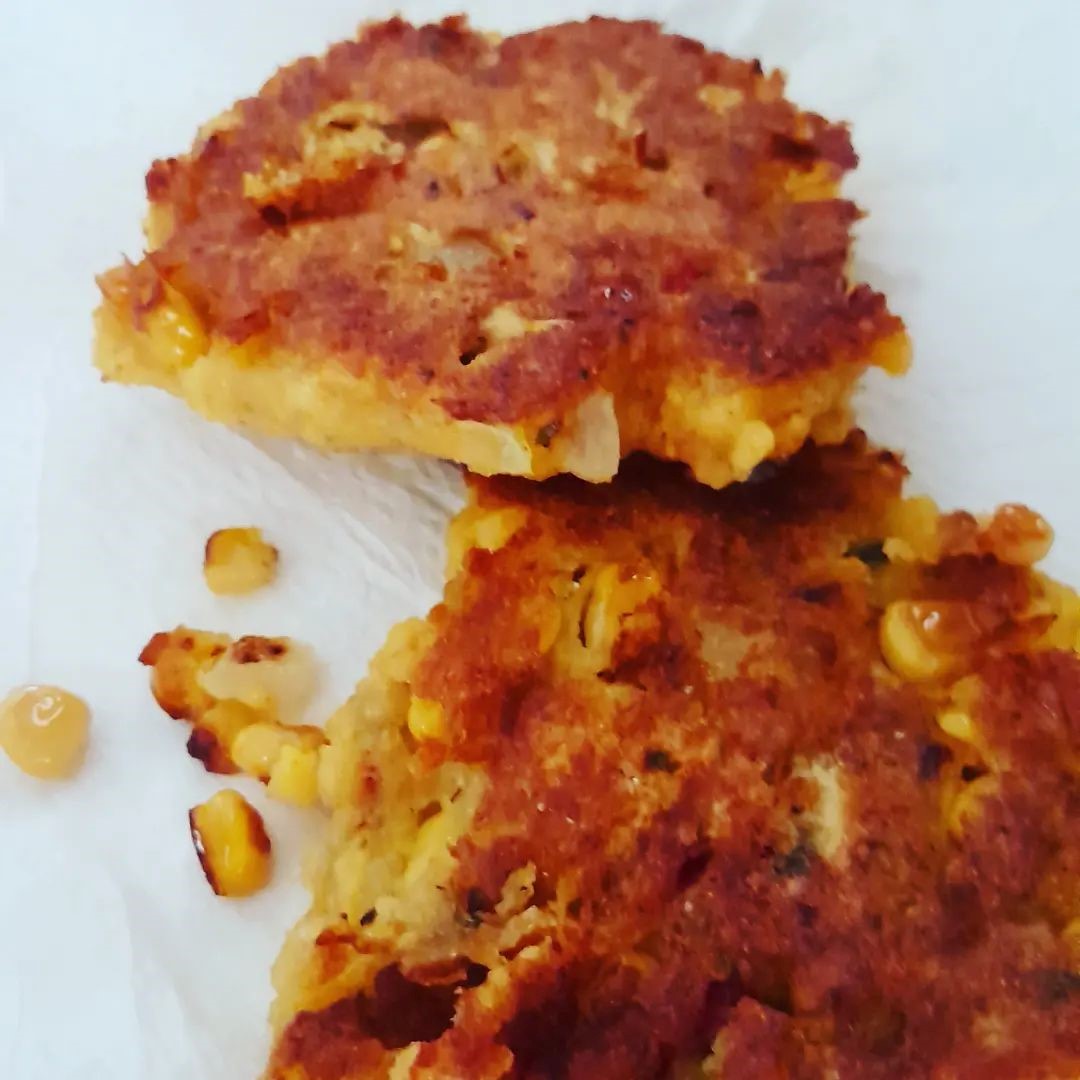 Sweetcorn Fritters
Sweetcorn fritters. Ready in a twinkling from 5 ingredients. Mix 1 can creamed corn with 1/2 cup cornmeal flour, 1/2 cup wholemeal flour of your choice. Add 1 tsp baking soda and seasonings e.g., 1 tsp mixed herbs, pinch of cayenne, 1/2 finely chopped onion, 1/2 chopped red pepper. Mix to a stiff batter and cook in non-stick pain or lightly fried in olive oil. Makes 10 fritters.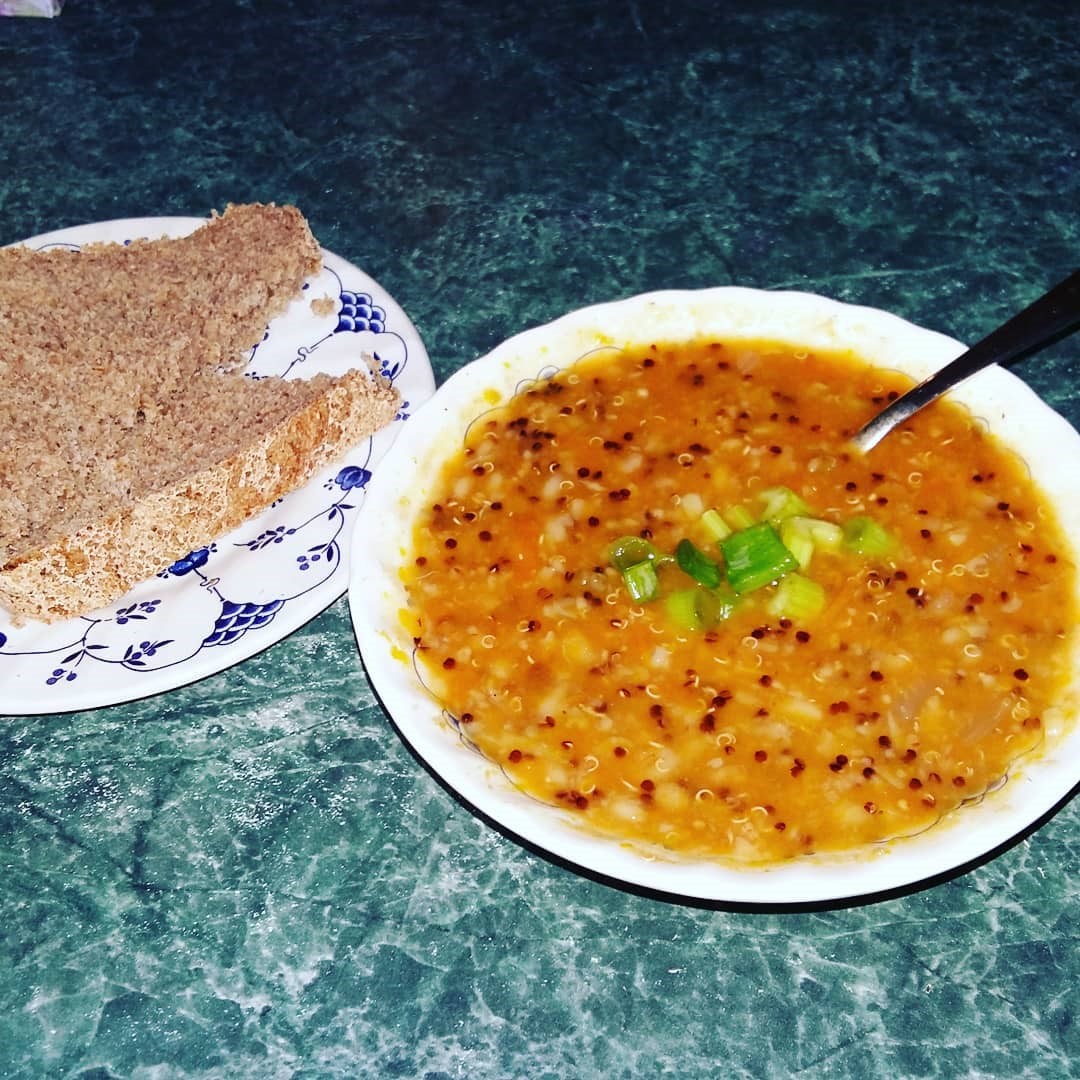 Homemade Vege and Quinoa Soup
A nutritious winter warmer. Great for a weekend meal. Simmer a soup mix of barley, split peas, lentils and quinoa. When soft add grated root veggies, 2 Tbsp tomato paste and black pepper. Serve with wholemeal bread.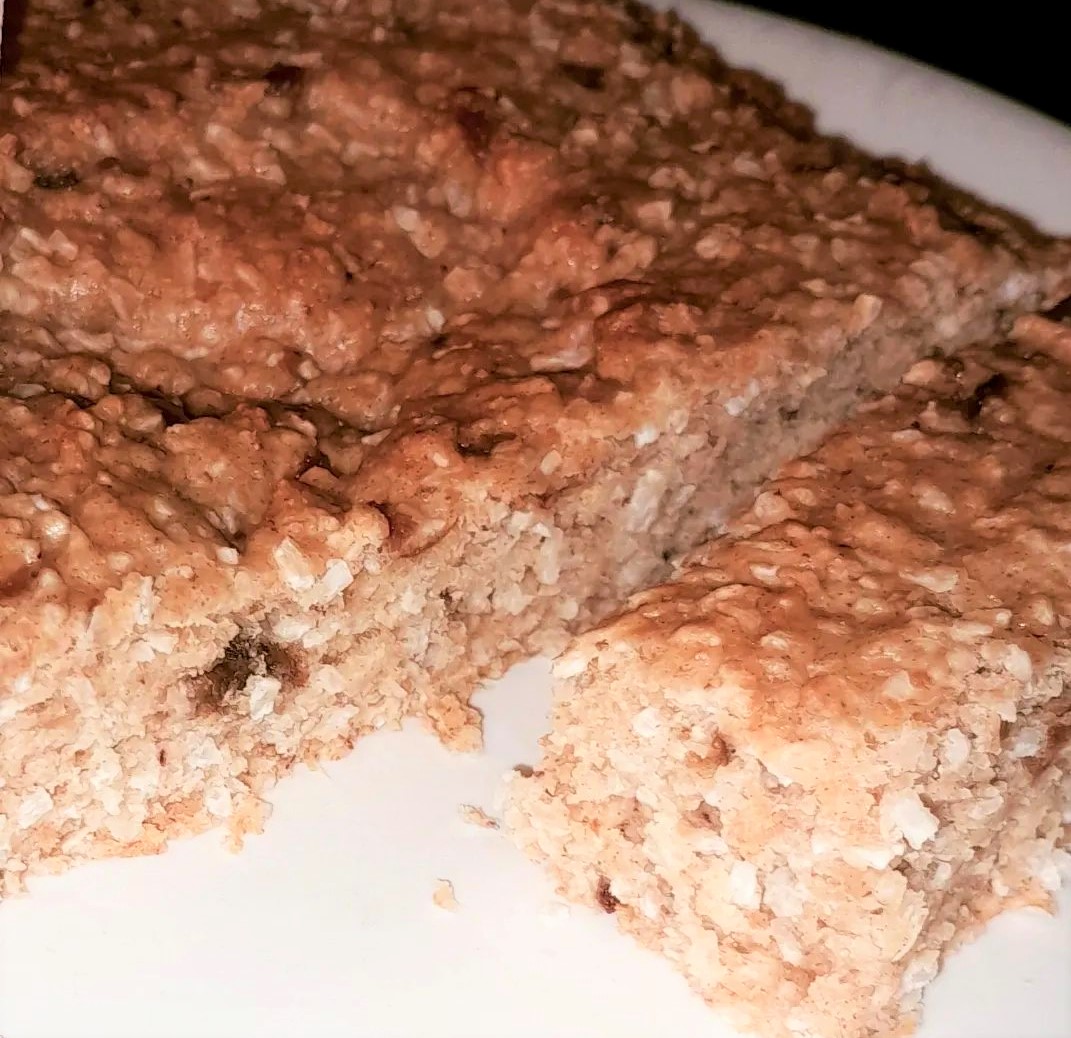 Coconut Cake
Coconut cake. An easy healthier version. Mix together 1 1/2 cups wholemeal flour, 2 tsp baking powder, 1/2 tsp salt, and 1/2 cup raw sugar. In a separate bowl, mix 1/2 cup chopped dates and just cover with boiling water. After 5 minutes, blend to a paste with a fork. Add to dry ingredients with 1/2 cup of pineapple juice and add about 1/2 cup of oat milk until a soft ball is formed. Add 1 cup shredded coconut and mix. Tip into a lined cake tin and cook at 180*C for 30 minutes.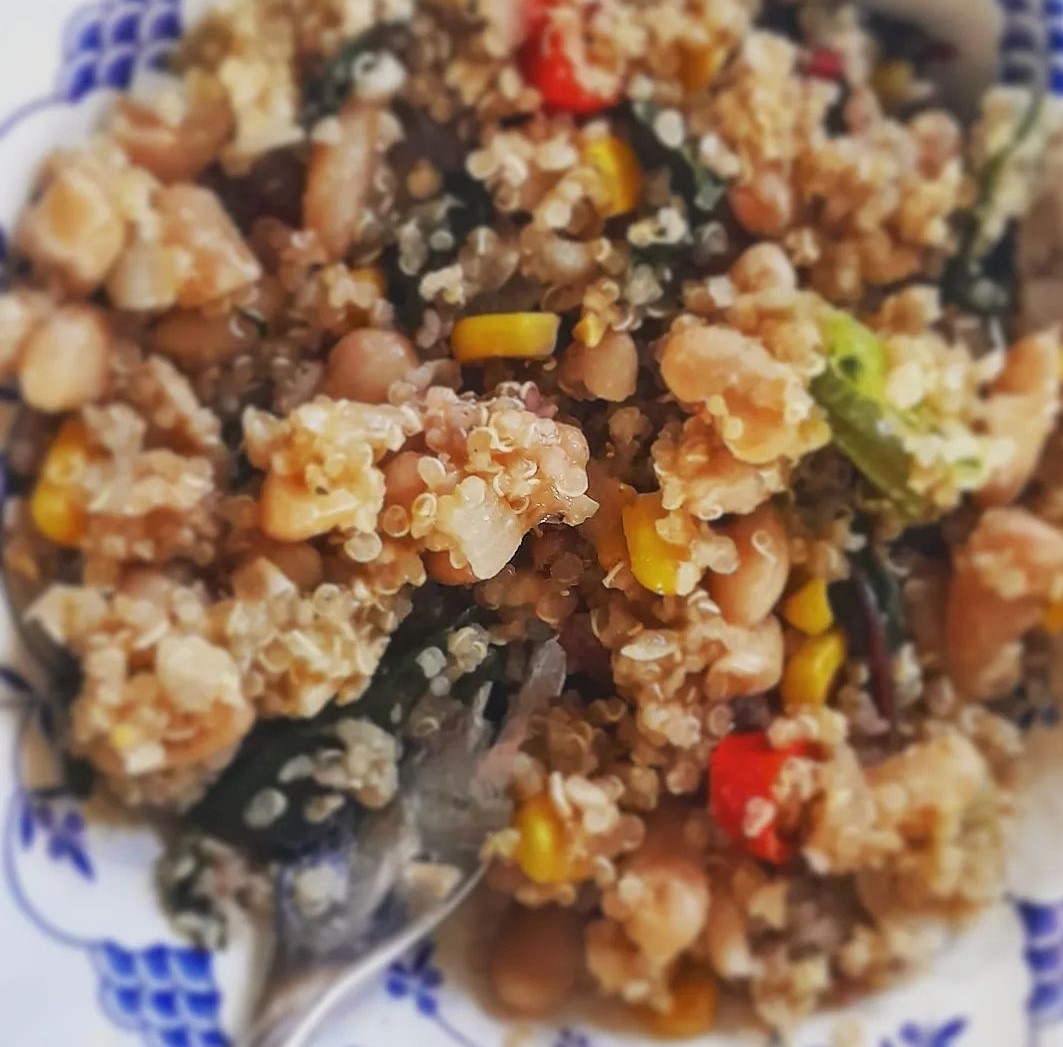 Quinoa Salad
Quinoa salad. A simple, quick meal for one. Boil 1/2 cup of white quinoa with 1 cup of water for 14 minutes. Add 1/2 frozen corn kernels 🌽 , 1/2 cup diced kale 🌱 and cook for a further 1 minute until water is absorbed. Fluff quinoa with a fork and add 1/2 tin of drained cannellini beans🫘, diced 1/2 capsicum🫑, 1 chopped clove of garlic 🌰, chili 🌶 for the brave and season with 1/2 tsp cumin and a pinch of salt.
We'd love to help you
take control of a healthy
future right now.